Lead Mentor
Mr. Levy works with students to foster both love for and proper practice in engineering. He's master of the shop, but always ensures students are making the decisions.

Fred Levy HM Faculty
Mechanical Mentor
Mr. Cook advises the robot design and fabrication process, working closely with our student leadership to ensure success both in learning and competition.

Jon Cook Con Edison
Team Captain
Ben Spector is the captain of our team, ensuring that all designs are sufficiently explosive. Ben's favorite materials are Chromoly Steel and MDF, taking after his second father Jon Cook. Ben is aso a winner of the FRC Dean's List Award.

Benjamin Frederick Spector Senior
Head of Design-Build-Test
Jake Beckman is the head of our Design, Build, Test Department.
Head of Programming and Electronics
Michael Truell ensures proper coding practice, version control, and strict adherence to the style guide. In his spare time, Michael enjoys camouflaging into doorframes with his tender, sticky feet, or moonlighting as a carrot in Broadway's "Salade du Jour."

Michael Truell Senior
Head of Fabrication
Nora Nickerson ensures that the robot gets built, and manages all robot fabrication. Nora is also our team's safety captain.
Head of Operations
Will Golub gets it done. Whether it's paperwork, paperwork, or more paperwork, William will dispose of it quickly and efficiently. A true godsend to the team, we're lucky to have him.
William Golub Junior
Lead Programmer
Jake Sanders is our lead programmer and Radiohead binge-listener.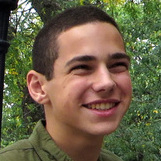 Jake Sanders Senior